F24-60 industrial remote controller
F24-60 industrial remote controller
F24-60 is designed with strong safety features. It has more than 4.3 billion unique safety code, automatic frequency tracking and locking and failure self-diagnosis,etc. Stop button is automatic.When components such as switches, joysticks, or relays are in fault, The system stops working till it is fixed.

F24-60 has extraordinary communication design-simultaneous encoding and decoding transmission, interference elimination,error detection and correction, and frequency resettable manually.

F24-60 has large amounts of programmable functions and is extensible using Windows compatible software with free update Functions are all programmable .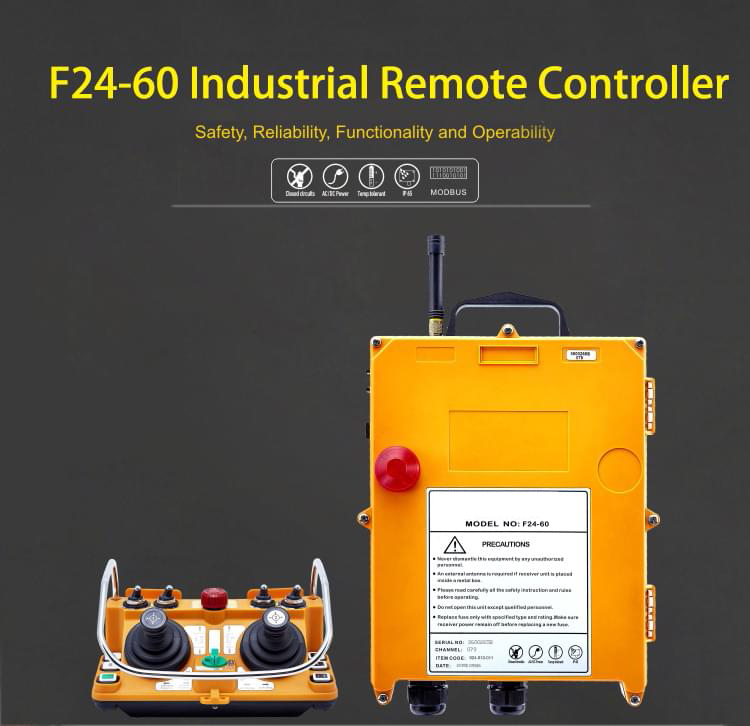 Product Features:
1. 6 function buttons, 4 three-position or two-position rotating switch, stop, rotary start switch 2 five-step
joysticks with 10 million times of mechanical life and pure proportion.
2. Control contact is up to 40.
3. With battery voltage warning device, the power supply is cut off during low power.
4. Safety switch key is to prevent from unauthorized user.
5. Program the button function by computer software.
6. The spare buttons can be programmed to normal, toggle, interlock or start, etc.
7. Start button can be program to be start, normal, toggle function etc.
8. Installed with proportional module for analog signal output (optional)
Product Parameter:
F24-60 Transmitter Parameters
Material
Glass-Fiber PA
Enclosure protection class
IP65
Frequency range
VHF: 310-331MHz (UHF: 425-446MHz is optional)
Transmitter power
≤10dBm
Transmitter power supply
2 AA alkaline batteries (not included)
Safety code
32 bits (4.3billion)
Temperature range
-40℃-+85℃
Control distance
Approx 100m(200 meters is customized)
Size
210x152x128mm
Weight
980g (without battery)

F24-60 Receiver Parameters

Material
Glass-Fiber PA
Enclosure protection class
IP65
Frequency range
VHF: 310-331MHz; UHF: 425-446MHz
Receiver sensitivity
-110dBm
Receiver power supply
18~65V AC/DC; 65~440V AC/DC (optional)
Safety code
32 bits (4.3billion)
Temperature range
-40℃-+85℃
Output contactor capacity
8A sealed relay output (with AC 250V/10A relays, 10A fuse)
Cable length
1.65m (Other length can be customized)
Size
320x253x107mm
Weight
2020g