F21-4S/4D Industrial Remote Controller
F21-4S/4D Industrial Remote Controller
VOHOBOO

5~7 working days

5000 Piece/Pieces per Week
1. 4 buttons(D means double steps), spare button
2. 8 control contactors
3. With battery voltage warning device, the power supply is cut off during low power
4. Program the button function by computer interface
5. Up/down, east/west, can be programmed to interlock or non-interlock
6. The spare button can be programmed to start, toggle or normal, etc
F21-4S/F21-4D model hoist crane wireless remote controller application:
A, Pre-installation please check whether the transmitter's S/N is in consistent with the receiver's CH.
B, The person without professional training shall not permit to disassemble the machine.
C, The general power supply of crane should be closed to cut off the receiver power supply.
D, The crane should have a general power relay, limit switch and other safety facilities.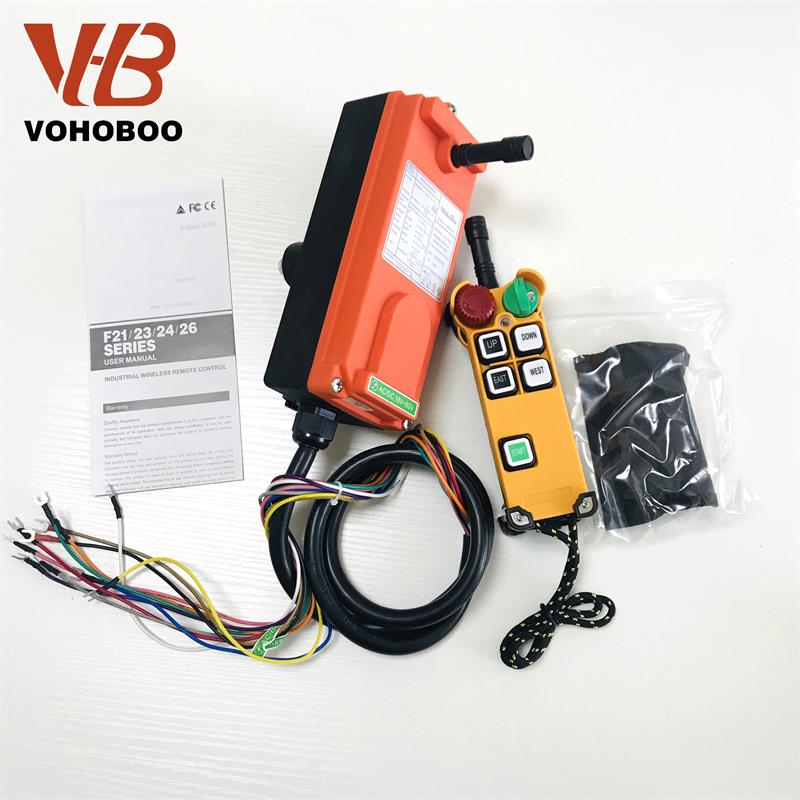 Features:
1. 4 buttons(D means double steps), spare button
2. 8 control contactors

3. With battery voltage warning device, the power supply is cut off during low power
4. Program the button function by computer interface
5. Up/down, east/west, can be programmed to interlock or non-interlock
6. The spare button can be programmed to start, toggle or normal, etc
Application:
Single-hook, single-speed electric hoist or hoist-type traffic and industrial remote control with 8 contacts or less.
Packaging & Shipping:
About Us:
Wuhan Vohoboo Import & Export Trade Co., Ltd is a modern high technology enterprise integrated R&D, manufacture and sales since 2011,the main products are crane, hoist and related accessories.
They are mainly used in wind power, manufacturing, machinery, equipment, ships, bridges, equipment installation, petroleum, metallurgy, petrochemical, chemical, rescue, aircraft manufacturing, mining and other industries.

After years of hard work, it has had excellent products for lifting industry and established its own brand, "Vohoboo". As a production supplier of excellent lifting products, we have always been adhering to the business philosophy of "quality first, credit standing", constantly refine design ideas, strive for excellence, continue to develop in the development of excellent lifting products.

Now Our products has been exported to Europe, America, Asia, Oceania, East Asia, Southeast Asia, South Asia, Central Asia and other international markets as well as China's northeast, north, south, northwest and other domestic markets. High quality products and reliable services have won good reputation in the industry and received many positive feedbacks.