Single Girder Overhead Crane
Single Girder Overhead Crane
VOHOBOO

Hubei, China (Mainland)

1-20 sets lead time:30days ; 21-50 sets lead time:40days ; >50sets:to be negotiated

100 Set/Sets per Month Single Girder Overhead Crane
The electric single/double girder crane has the characteristics of reasonable structure and strong rigidity. The whole machine is used together with CD1, MD1, European type electric wire rope hoists or HHBB electric chain hoists,it is widely used in Steel Plant, Cement Plant ,Power Plant , Mine Industry, Food Industry, Chemical Industry , Ship yard , Stone Yard, and warehouses etc.
Single Girder Overhead Travelling Crane could widely used in machinery manufacture , metallurgy ,petroleum, petrifaction ,port, railway, civil-aviation, food ,paper making, construction , electronics industries workshop, warehouse and other material handling situations , esp. applied to material handling that need precise positioning, large components precise assembly situation. This product adopts ground controlling and woks at a temperature of -25~+40℃



Single girder overhead crane configuration is made up of a single bridge girder, two end carriages and a hoist with trolley, which runs along the bottom flange of the bridge girder between the end carriages.
It is widely used in industrial factory, warehouse, workshop, stock ground, workstation factory, goods yard etc.

It looks like bridge, because both ends of girder are on the tall concrete column and metal support structure.

It consists of metal structure, crane travelling mechanism, lifting mechanism, safety protection and operation.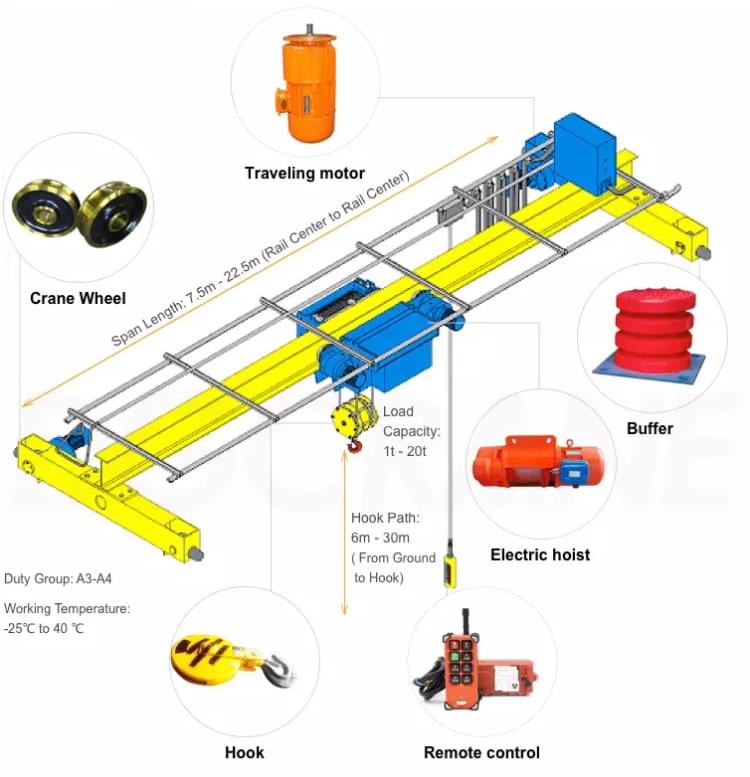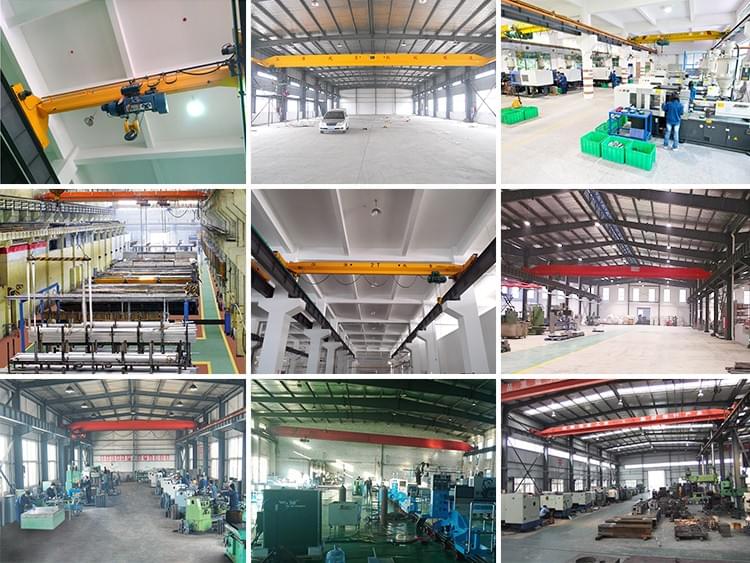 >Single girder overhead crane features:
1). Easy installation and maintenance ;
2). Widely used in different places for hoisting such as factories,warehouses and material yards etc ;
3). Reasonable structure, strong bearing capacity ;
4). Low noise, soft starting and stopping ;
5). Safe and reliable operation ;
6). Low cost maintenance, long working life ;
7). Wheels, wire rope drum, gears, couplings are processed by CNC machine center, TOP quality control ;
8). Heavy duty slipring motor,Or Sq.cage motor with VVVF, IP54 or IP44, insulation class F or H, soft starting and smooth running ;
9). Schneider main electric parts are used for durable and safe operation ;
10). Prohibited to use in the environment with inflammable, explosive and corrosive media.
>Single girder overhead crane parameters:
Lift capacity

1T~32T (single girder or double girder)

Crane span

3~28m according to your demands

Lifting height

3~16m according to your demands

Crane traveling speed

5~20m/min or 5~30m/min or 5~40m/min or VFD speed

Electric hoist lifting speed

(5/0.8 m/min double speed) or HHBB electric chain hoist

CD1 electric hoist(8 m/min)

MD1 electrc hoist(8/0.8 m/min)

Hoist trolley speed

Remote control

F24-6D/F24-10D or F21-E1B etc, according to your demands

Single girder overhead crane application:

The electric single girder overhead crane has the characteristics of reasonable structure and strong rigidity. The whole machine is used together with CD1, MD1, European type electric wire rope hoists or HHBB electric chain hoists,it is widely used in Steel Plant, Cement Plant ,Power Plant , Mine Industry, Food Industry, Chemical Industry , Ship yard , Stone Yard, and warehouses etc.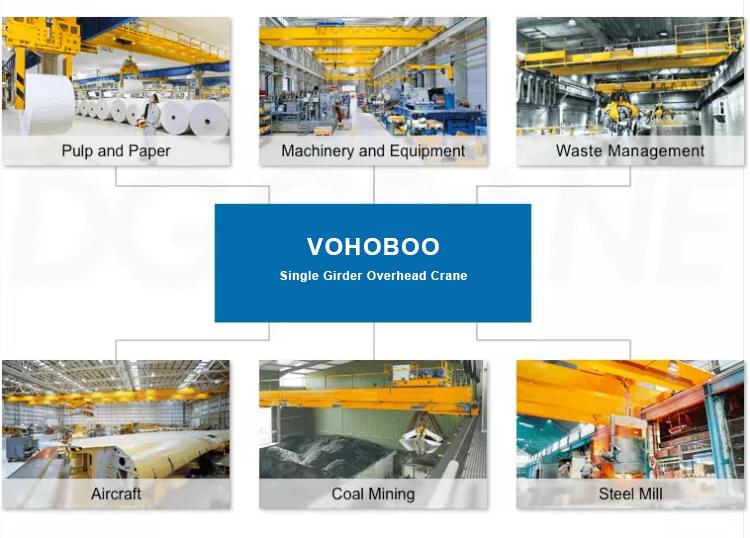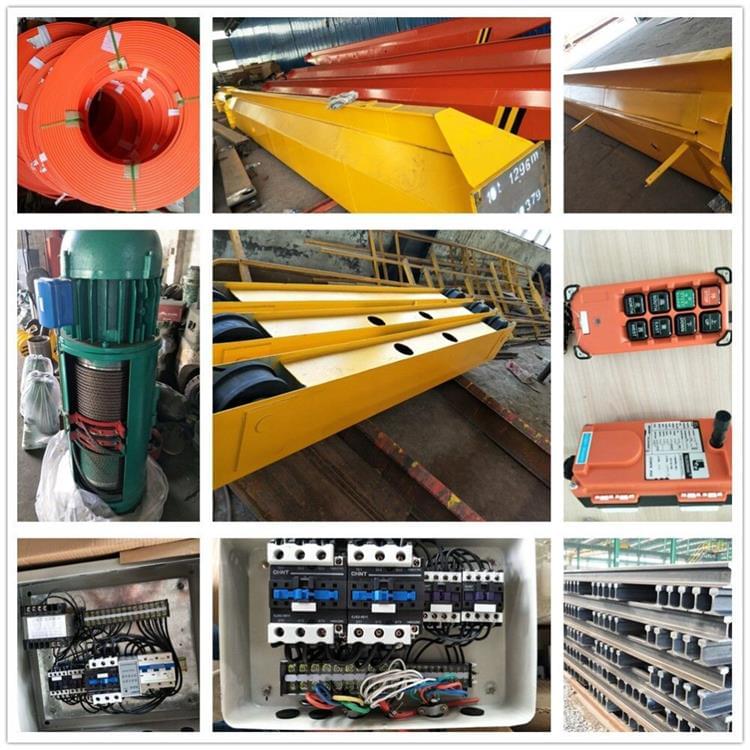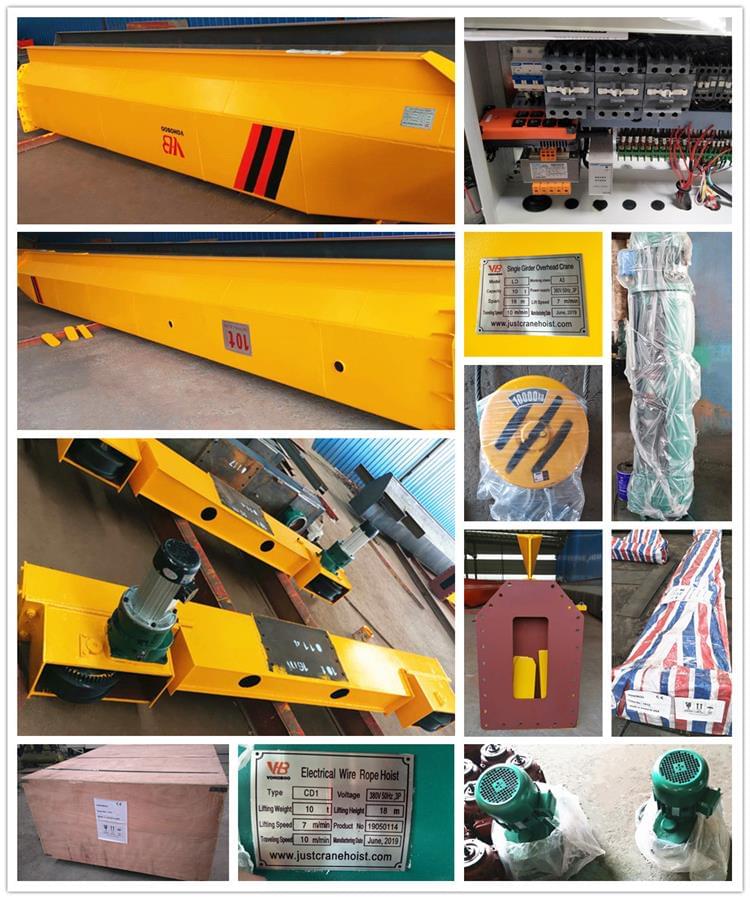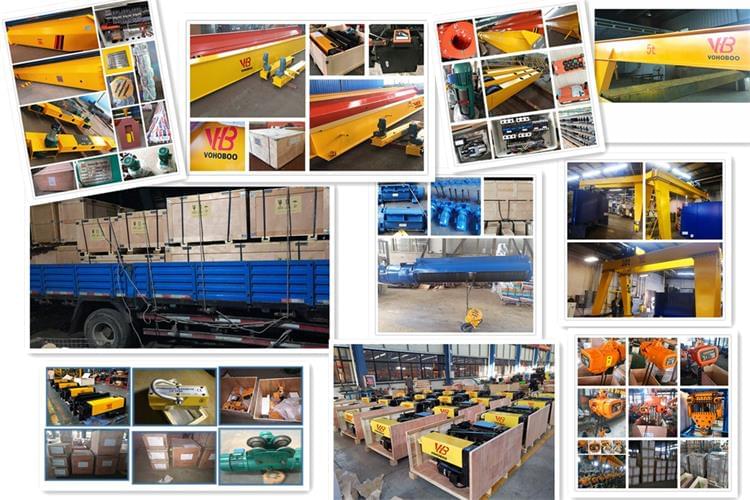 Any question will be sincerely and professionally handled!