Double Girder Gantry Crane
Double Girder Gantry Crane
VOHOBOO

Hubei, China (Mainland

5~7days after receive payment

2000 Set/Sets per Month gantry crane 1 ton
Single and Double girder gantry crane with hooks is applied outside warehouse or railway sideways to do common lifting and unloading works. This kind of crane is composed of bridge, support legs, crane travelling organ, trolley, electric equipment, strong lifting winch. The frame adopts box-type welding mechanism. Crane travellilng mechanism adopts separate driver. All mechanisms are operated in the driver cabin. Power is supplied by cable or slide wire. There are different capacity double beams gantry crane for your choice according to your different use.
Product Description:


Double girder gantry crane is a kind of new generation crane with intelligent feature. The lifting mechanism is open winch.
The whole drive including lifting, crossing traveling and long traveling use infinitely variable frequency motor which make the
crane travel smoothly. Double girder gantry crane is extremely safe, ergonomic, convenient, and efficient for material transport.
Wireless Radio Remote Control Gantry Crane 10 ton 8 ton 5ton.At the same time, we can also customize the gantry crane according
to your specific requirements, including lifting weight, overall size design, etc.It is of advanced technology, whose design is based on
international standard: FEM (Europe), DIN (Germany), ISO(International), equipped with many advantages such as: strong rigidity, light
dead weight, low power, outstanding structure design etc. The configurations are very advanced, such as Schneider electricals,
ABM/Nord / SEW triple gear motor (three in one: motor, gear box, brake), galvanized high strength wire rope, self-adjusted disk brake,
hard tooth reducer, programmable lifting limit switch, and so on.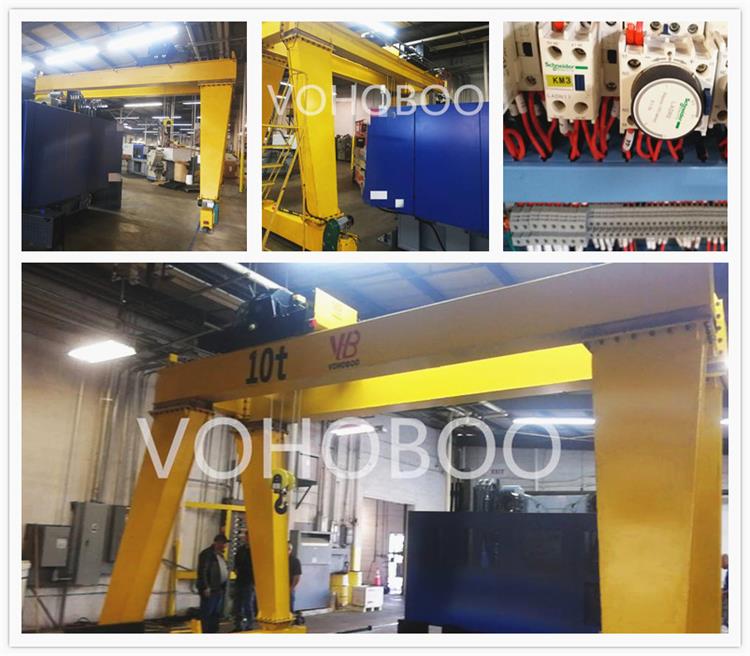 Application:
It is mainly used for loading and unloading operations of outdoor freight yards, material yards and bulk cargoes. The gantry crane
has the characteristics of high site utilization, large operating range, wide adaptability and strong versatility. Its metal structure is
like a door-shaped frame. It is installed under the main beam and has two legs. It can walk directly on the track on the ground.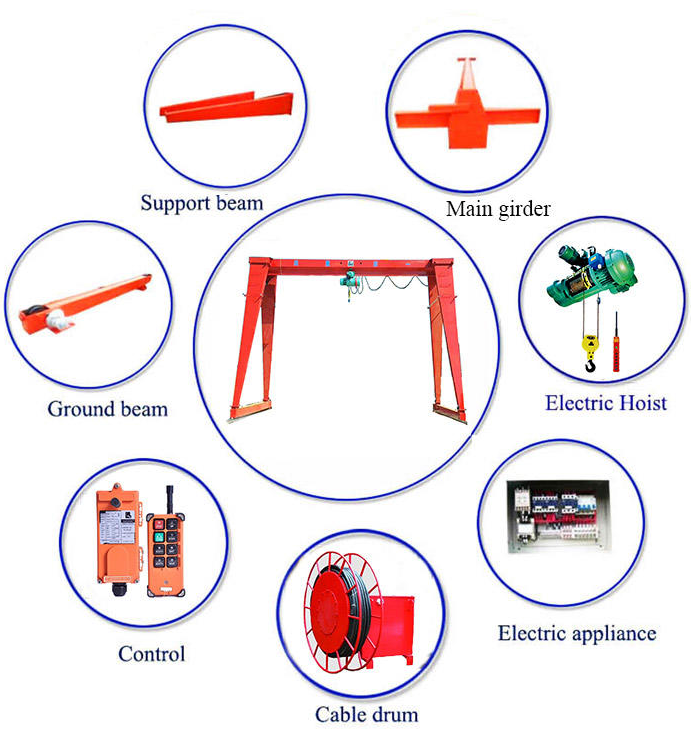 Product Parameters:
Specifications of VOHOBOO Gantry crane

Wire rope hoist or electric chain hoist

AC-3Phase-220//230380/400/415/440V-50/60Hz
Packing & Shipping: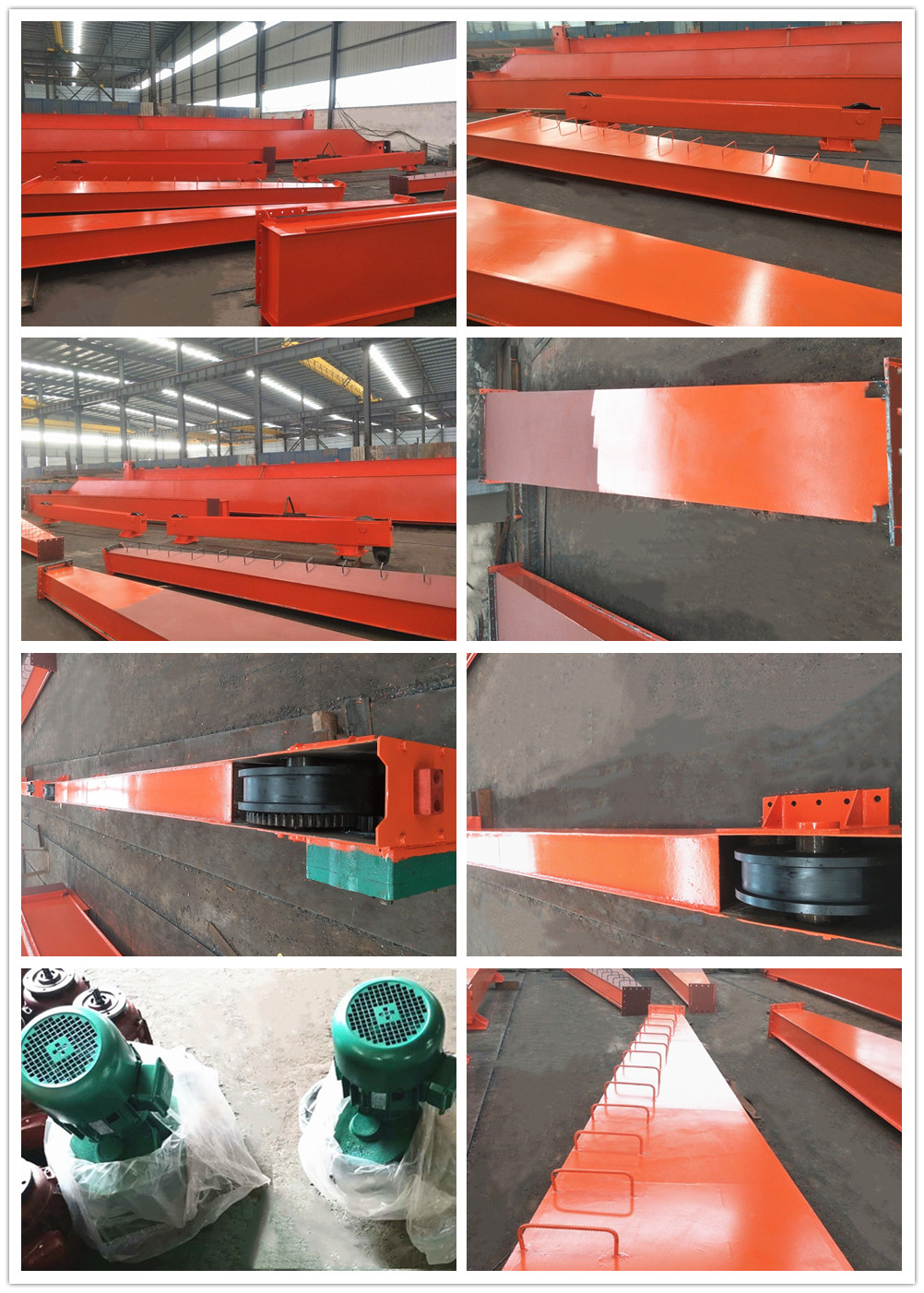 About Us:
Wuhan Vohoboo Import & Export Trade Co., Ltd is a modern high technology enterprise integrated R&D, manufacture and sales since 2011,
the main products are crane, hoist and related accessories. They are mainly used in wind power, manufacturing, machinery, equipment, ships,
bridges, equipment installation, petroleum, metallurgy, petrochemical, chemical, rescue, aircraft manufacturing, mining and other industries.

After years of hard work, it has had excellent products for lifting industry and established its own brand, "Vohoboo". As a production supplier
of excellent lifting products, we have always been adhering to the business philosophy of "quality first, credit standing", constantly refine design
ideas, strive for excellence, continue to develop in the development of excellent lifting products.

Now Our products has been exported to Europe, America, Asia, Oceania, East Asia, Southeast Asia, South Asia, Central Asia and other international
markets as well as China's northeast, north, south, northwest and other domestic markets. High quality products and reliable services have won good
reputation in the industry and received many positive feedbacks.