Wall Mounted Jib Crane
Wall Mounted Jib Crane
VOHOBOO

Hubei, China (Mainland

2~4 weeks after your payment

2000 Set/Sets per Month gantry crane 1 ton
1. Column using seamless pipe, main beam use I-beam or KBK beam.
2. Rotation can be manual or motorized.
3. Hoist can be equipped with electric wire rope hoists, electric chain hoists or manual hoists.
4. Unique structure, safe and reliable, high efficiency and flexible.
5. Can be customized according to client's requirements.
6. Easy installation
Sales Wall Mounted Jib Crane,High Quality Slewing Arm Crane,Electric 5t Jib Crane Manufacturers
Wall Mounted Jib Crane
Wall mounted jib crane is a kind of small and medium-sized lifting equipment, the complete range is for loads up to 1 tonnes.

Jib crane can be operated freely in 3D space. So jib cranes are efficient partners performing their tasks reliably in factory. With their comprehensive product line of jib cranes, it offers flexible and cost efficient material handling solutions for any job in the workplace. Our Jib cranes can be individually tailored for your application.

Wall Mounted Jib Crane
-Jib arm is made of I-beam or weld steel box, depends on capacity and duty group.
-Bolted end connection plate for rapid mounting
-Safety anchoring with ribbed pillarbase
-Low-build profile section jib armfor optimised hook height
-Power supply via slip-rings for infinite 180° 360°Slewing.
-Complete with electrical systems including lockable mains switch and power supply to the hoist.
-Electrical equipment with class F insulation, protection type IP 54.
-Operated from floor level via pendant controls.
-Working with CD/MD electric hoist or chain hoist.
Introduction
Jib crane is a kind of small and medium-speed lifting equipment developed recently.
It is widely used in mines, workshop, warehouse , wharf,etc.
Column mounted jib crane work for light intensity, crane by post, rotating arm rotation drive device and electric hoist, column bottom through on the concrete foundation with anchor bolt, cantilever rotary driven by cycloidal pinwheel reducer, electric hoist on the cantilever beams as a straight line running from left to right, and lifting heavy objects.
Fixed column slewing jib crane is mainly composed of top column, low column, main girder, main girder pole, electric hoist, rotation mechanism and electrical system, etc.Normally control model of jib crane with remote control or pendent line with press button or both.
High quality workshop jib crane Jib Crane:
Jib Crane is a kind of small and medium-sized lifting equipment with the recent development.Its unique structure, safe and reliable.With high efficiency, energy conservation, the provincial time, effort, and flexible and so on. And it can operate freely in 3D space,and it can show its superiority more especially when its working in the short-range and intensive lifting occasions.Widely used in workshops, warehouses, docks and other fixed place.
Compact Design:
The advanced design idea gives the crane light structure and excellent performance, at the same time narrows the hook operation distance in the maximum, and improves the space utilization rate effectively. So it can reduce your workshop investment costs and bring more investment returns.
Smooth, Fast Loading
The standard configuration of the crane are the trolley and crane both having step-less frequency conversion control system, with features of braked stably, accurate location, and reliable performance, which make traveling steady, positioning quick, solving the problem of swing of goods. Safer, Reliable, Using Free Maintenance Design The crane used the best technology in the whole process shows its superiority, especially in the frequent operations. The perfect braking system improves safety and reliability a lot, which can be adjusted by itself with dustproof design, and it can be used more than 1 million times. Hardening and polishing the tooth surface will make sure the crane operate without trouble.
Excellent Performance
As an important logistics equipment, if the crane is out of order, it will cause great damage. So our products always having high quality will be your best choice.
Wall Mounted Jib Crane
Main features:
1. Column using seamless pipe, main beam use I-beam or KBK beam.
2. Rotation can be manual or motorized.
3. Hoist can be equipped with electric wire rope hoists, electric chain hoists or manual hoists.
4. Unique structure, safe and reliable, high efficiency and flexible.
5. Can be customized according to client's requirements.
6. Easy installation.
Technical parameter: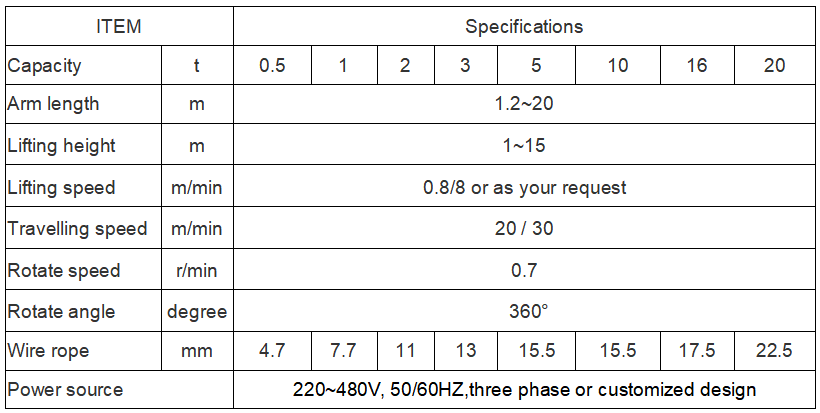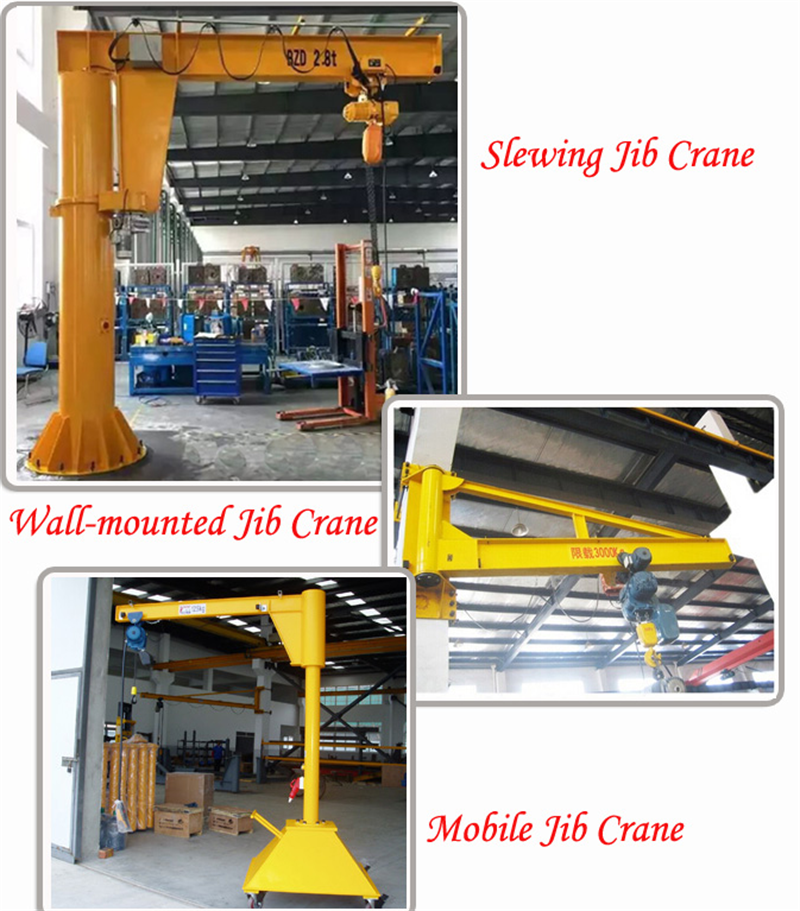 Different types jib crane for your choosing: