HHBB Electric Trolley Type Electric Chain Hoist
HHBB Electric Trolley Type Electric Chain Hoist
VOHOBOO

Hubei, China (Mainland

1-10 sets lead time:5days ; >10sets:to be negotiated

6000 Set/Sets per Day 1 ton electric chain hoist
HHBB electric trolley type electric chain hoist are widely used in industrial enterprise, mines, agriculture, railway, sea port, warehouse,normal factory, workshop, and so on.The product is in compliance with the national standard.The materials we used are all of good quality.It is an ideal equipment to improve working efficiency and working conditions nowadays.

HHBB electric trolley type electric chain hoist is typical of unique optimal structure in shortening the distance between the machine body and the beam tracks, applicable to operations in side low buildings, especially suitable for use in temporarily erected plant buildings or on the sites where expansion of effective hoisting spaces inside the buildings is required the Most important parts of the Machine is Chain and brake system.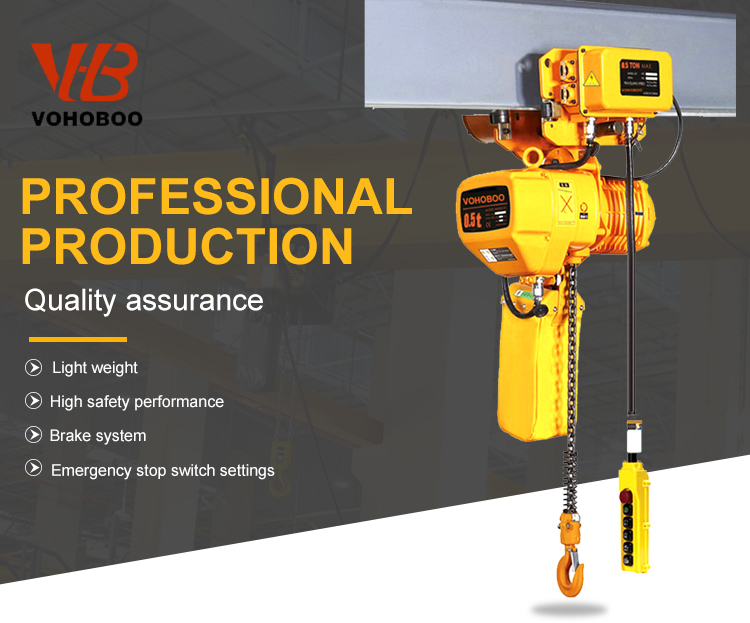 1. Product Description
HHBB electric trolley type electric chain hoist is a kind of new lifting equipment which adopts Germany advanced technique. It changed the structure of the same kind good at home and abroad and has applied for national patent. It is high speed lifting revolve steady, compact, small, light, convenient and beautiful etc. Electric chain hoists are operated by the operator with the buttons on the ground. They can also be operated in the control room or wired (wireless) remote control. The electric chain hoist can be fixed and used, and it can also be equipped with electric monorail trolleys and hand-push/pull-out monorail trolleys.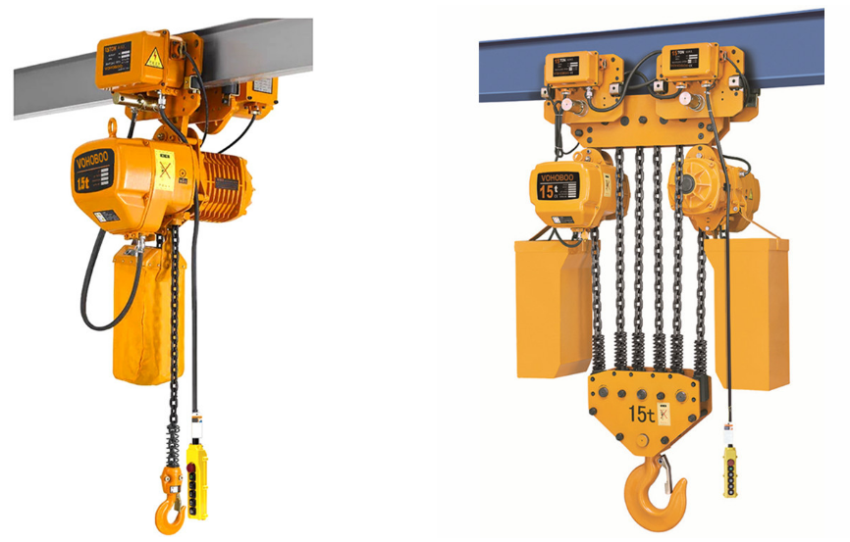 1. HHBB Electric Trolley Type Electric Chain Hoist Product Details:
HHBB electric trolley type electric chain hoist main features:
1. Shell: Light aluminum alloy shell shall be adopted which is light but hard and fit for the use in the terrible work environment with a high heat dissipation rate and all tightness design.
2. Inverse phase sequence protecting device: It is the special electrical installation which control the circuit not to work in case of wiring error in the power supply.
3.Limit switch: The limit switch device is installed where the weight is lifted on and off to make the motor to stop outomatically so as to prohibit the chains from exceeding for safety.
4. 24V/36V device: it is used to prohibit the emergencies from occurring in case of the leakage in the switch.
5. Side magnetic braking device: This device shall realize the instant brake in case of the power dump.Chain bag: It shall be light, handsome and durable.
Any question will be sincerely and professionally handled! Waiting for your inquiry!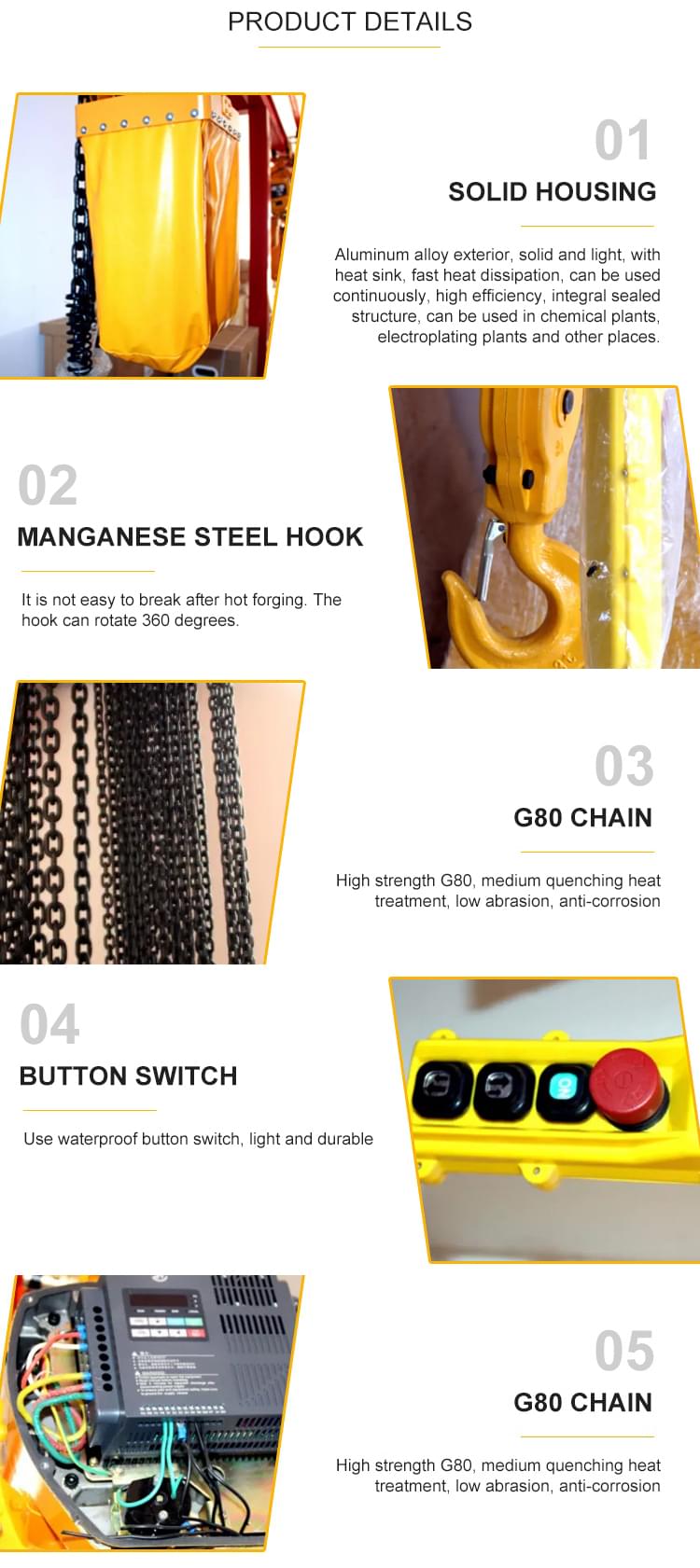 2. HHBB Electric Trolley Type Electric Chain Hoist Product Parameters:
single or double lifting speed based on client's request

Model

0.5-10

01-01

01-02

1.5-01

02-01

02-02

2.5-01

03.-01

03-02

03-03

05-02

Capacity(T)

0.5

1

1

1.5

2

2

2.5

3

3

3

5

Lifting speed(m/min)

7.2/2.4

6.9/2.3

3.6/1.2

8.8/2.9

6.6/2.2

3.3/1.1

5.6/1.8

5.6/1.8

3.3/1.1

2.2/0.8

2.8/0.9

Power supply

3-phase 380V 50Hz/according to client;s request

Travelling speed(m/min)

fixed hook type or slow 11m/min,fast21m/min

Net weight(kg)

47

65

53

108

108

73

115

115

131

85

145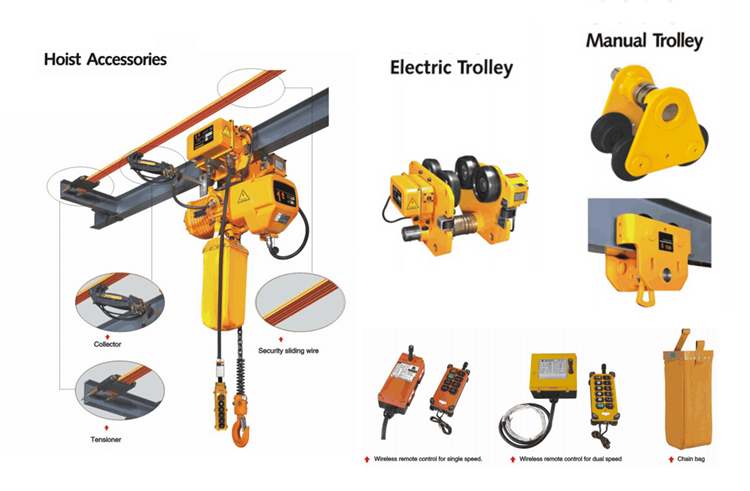 3. HHBB Electric Trolley Type Electric Chain Hoist Product Application:
Electric chain hoists are used in a wide range and are mainly used in large factories, warehouses, wind power generation, logistics, docks, construction and other industries. They are used for lifting or loading and unloading cargo, and can also be used to lift heavy objects to facilitate work or repair.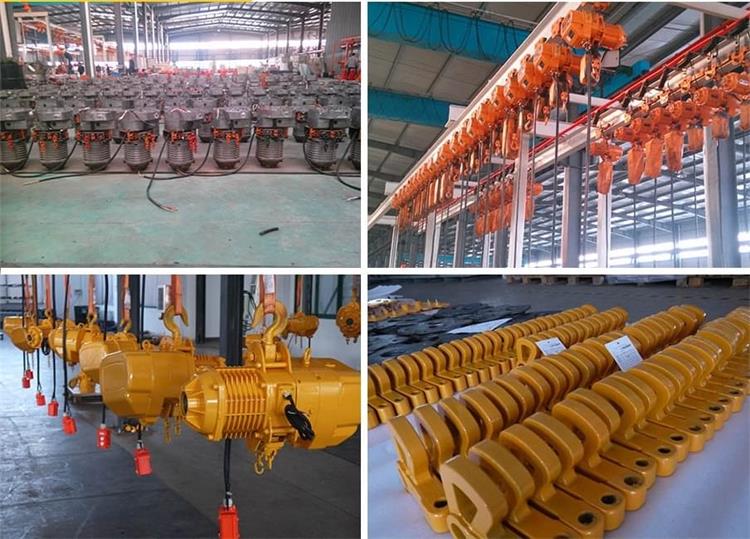 4. HHBB Electric Trolley Type Electric Chain Hoist packing site: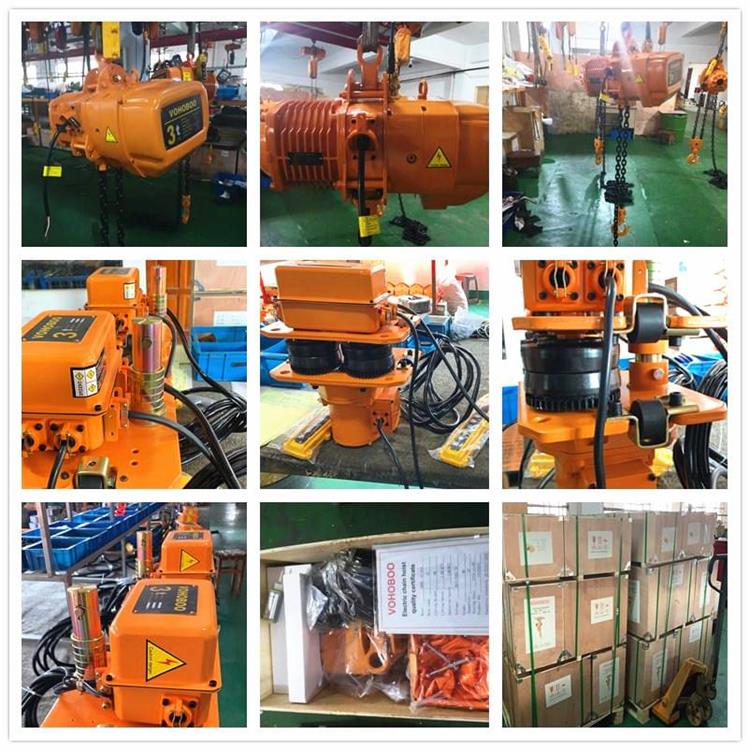 5. About VOHOBOO: