European Hook Type Electric Chain Hoist
European Hook Type Electric Chain Hoist
VOHOBOO

Hubei, China (Mainland

1-10 sets lead time:25days >10sets:to be negotiat

6000 Set/Sets per Day 500kg galvanized electric chain with slip clutch hoist
Lifting capacity : 2t-12.5t
European optimized design, light dead weight
Silent operation
Low hoist frame reduces the height of building and saves construction cost
Modern integration design which combine motor together with fan, reducer, rope drum and brake, compact structure
Optimum cooling with good cooling performance, cooling is improved up by 30%, resistant to a temperature rise of 170 ° C
Ambient temperature: -10℃ – +40℃
Epoxy zinc-rich painting for one bottoms and two sides of 120μm thick, to achieve a long lifespan, beautiful appearance and good luster
European Style Hook Type Electric Chain Hoist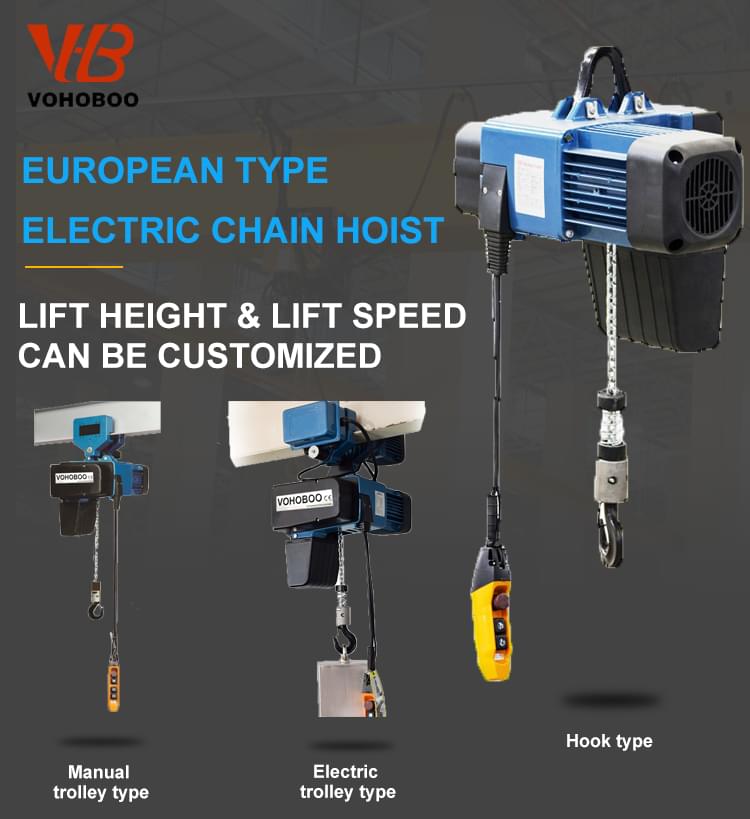 European Style Hook Type Electric Chain Hoist Description: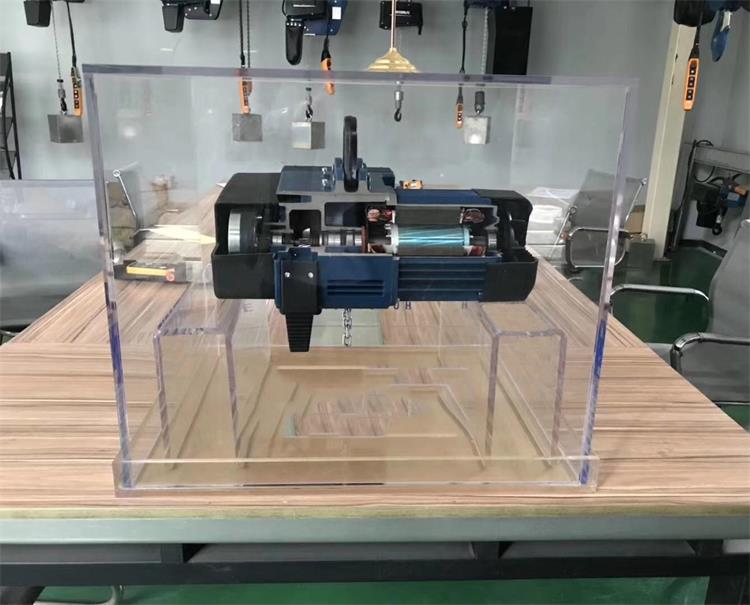 Shell:
Made of light aluminum alloy,light and hard.the cooling fin is specially designed to ensure heat dissipation with the rate up to 10% and continuous service. the integral enclosed structure is applical to place in chemical and electoplate factory.
Chain:
Standard one is G80 chain , we also can use FEC80 ultra heat-treatable aluminum alloy chain. it can be safely used in poor environment such as rain, sea water and chemicals.
Hook:
It is hot forged with perfect strength that not easy to break. Safety operated with 360 degree rotation.
Push button:
Light, waterproof button with emergentcy stop to ensure safety.
Limit switch:
the limit switch device is installed where the weight is lifted on and off to make the motor to stop automatically so as to prohibit the chains from exceeding for safe.
Side magnetic braking device:
the magnetic force generator is the latest design which is featured for generating magnetic force.it allows instant brake as soon as the electric power is cut off.thus the braking safety while loading is guaranteed.
Transformer:
24v/36v transformer device.this device is used to prohibit unexpected accdients caused by electric leakage and guarantees the safe use while raining.
Electromagnetic contactor:
electromagnetic contactor can be used safely under high frequency.
For more information about european hook type electric chain hoist products, please click to contact our professional technicians